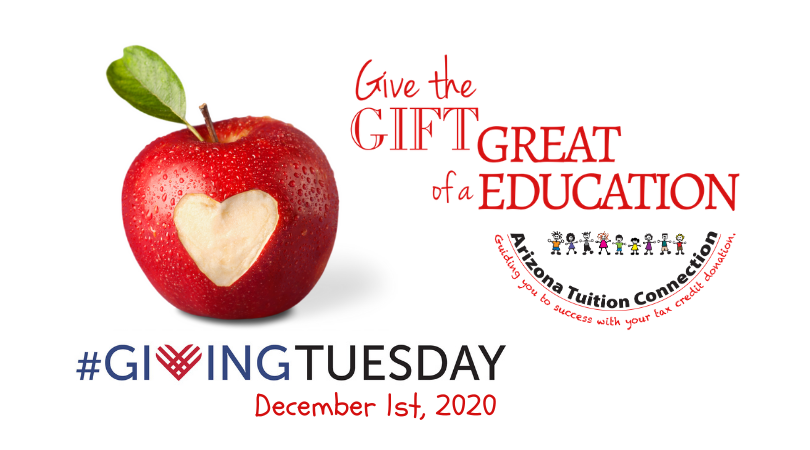 Arizona Tuition Connection is excited to announce we are matching all donations received on Giving Tuesday.  In the spirit of assisting others, the matching funds will be awarded in the form of a scholarship of the same amount to assist a student with financial need. 
---
HOW IT WORKS:
Donors make tax credit donations on #GivingTuesday, December 1st, 2020.  Online: www.arizonatuitionconnection.com, or by calling us at: 480-409-4106.
Donors can recommend a student or school to receive the original donation.  Arizona Tuition Connection will match the donation by sending a scholarship of an equal amount to support a different (low-income qualified) student at the same school.

These donations qualify for a dollar-for-dollar tax credit off the donors AZ State taxes, (married couples can donate up to $2,365, while singles can donate up to $1,183).
NEXT STEPS:
Participate by making your tax credit donation on Giving Tuesday to support your school.
Talk to your social contacts about making a tax credit donation and recommending your family!
Print or email the attached announcement and share it with your social network.
Get your custom donation page and brochures ready by emailing photos to heather@arizonatuitionconnection.comCustom brochures and donation pages can significantly assist you in starting the conversations about getting donations where your family is recommended.  We will design, print and send them to you at no charge.
---

Please NOTE:
Donations must be made on December 1st, 2020 to be matched.
The matching funds from Arizona Tuition Connection will go into a pool of funds for low-income corporate eligible students. The awarding of those scholarships will be within the state guidelines and at the sole discretion of Arizona Tuition Connection.
Matching low income scholarships will be awarded to students who are attending a private school in Arizona, are qualified to receive low-income corporate tax credit scholarships, and have completed an application with Arizona Tuition Connection.
Contact Arizona Tuition Connection at 480-409-4106, or info@arizonatuitionconnection.com with any questions you may have.