Scholarships
Scholarships are available to families of all income levels.  The only requirement to receive tax credit funding is that your child is enrolled in an Arizona Private K-12 school.
Funding for scholarships comes from the tax credit donations of individuals and corporations.  Your participation in having your social contacts donate is a great way to increase the funds available for your family's scholarship awards.
Arizona Tuition Connection offers 3 types of scholarship awards.
Original
Switcher
Low-Income Corporate
It is important for you to understand which of these scholarships your children are eligible to receive.
Please go to the FAQ section to learn more.
Approved Schools
We work with every private school in the state.  For a complete list, use the link below.
Resources
We have a variety of resources and tools available to parents to maximize their family's scholarship awards.
Free Tools
Personalized Donation Pages

A donation page is a one-page website set up specifically for your family.  If you provide us a digital photo of your child, we will provide the first draft of the donation page.  You then will have the ability to edit the donation page to express the exact message you would like to convey.  These donation pages have proven to be an excellent way to start the conversations with your social contacts regarding donations.  You can email your request to heather@arizonatuitionconnection.com   or   click here for more details instructions.
Custom Brochures
We are excited to offer customized brochures featuring your student or family!  These brochures work hand in hand with our donation pages.  Once you request a donation page, we will automatically create and send your custom brochures.  Each brochure will feature a photo of your child or family on the front, and a pre-filled donation form (student name and school) on the inside.
If you would like to request custom brochures outside of having a donation page, email a single photo to heather@arizonatuitionconnection.com.
For more information on the custom tools we offer:  Visit our Free Tools Page
FAQ Page
Asking for and receiving donations where your child is recommended is the number one way to maximize your scholarship awards from Arizona Tuition Connection.   In order to be successful, parents must educate themselves on the common questions that get asked when discussing tuition tax credits.  Spending 15 minutes reading our frequently asked questions pages on this website will provide you the basic knowledge you will need to be successful in talking to your friends, co-workers, other parents, and social contacts about redirecting their tax dollars to your family.
Tax Credit Videos
The videos below are a great tool to post to your social pages and include in your email campaigns.  You can use these videos by sharing the following links.
Video #1:  https://youtu.be/UOUMiVwqG1E
Video#2:  https://youtu.be/V9pUDX4dr9k
Standard Donation Brochures 
We have two fantastic brochures available for you to use.   These brochures are an excellent tool to carry with you and hand out to social contacts as you have discussions with them.   Remember to pre-fill out the brochures with your child's name and school to assure the donations get credited to your family.  Contact us and ask for professionally printed brochures, or you can download and print your own. We have two brochures you can download, our standard tri-fold brochure, and a new brochure/donation form that is intended to be turned in to your tax professional when you do your taxes: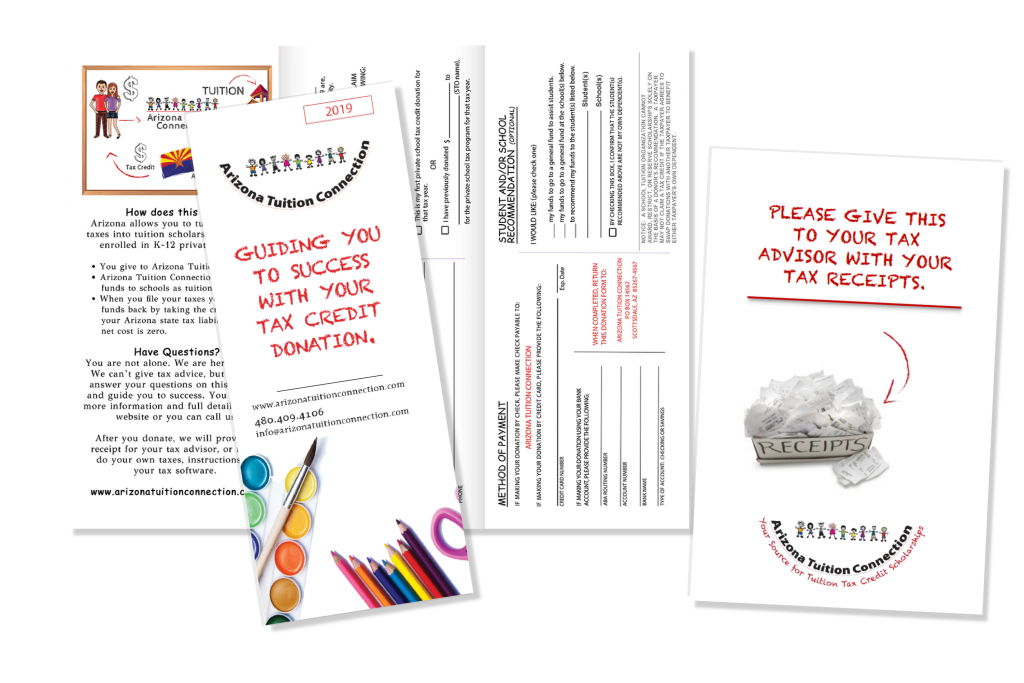 Phone and email support
We have a trained staff available to assist you with all aspects of increasing your understanding of the tuition tax credit process.   We always welcome your calls and emails.   We even have tax preparers available to assist with specific tax questions.
Sample letter
Often applicant  families like to send letters or emails directly to potential donors but just don't know how to get started.   Below is a Sample Letter that you might consider using as a starting point.
Dear Friends and Family,
I am very excited to be sending my (son/daughter) back to ________school.   This is important to me because __________school is able to provide the  environment, high standards and personal attention that we were looking for in  (his/her) education.  
Although tuition is not cheap, Arizona residents are blessed with the opportunity to provide assistance to students in private schools while receiving a dollar-for-dollar tax credit in return.   What this means, is if  for example you donate $2,000, you can deduct that amount off your Arizona state taxes, either paying less or getting a larger refund when you file your return.     Your donations are awarded in the form of scholarships to help with tuition expenses  for families like ours.
The maximum amounts you can donate this year as a single person is $xxxx   and $xxx   for married couples filing jointly. 
 I am working with Arizona Tuition Connection, a non-profit organization devoted to processing tax credit donations and making scholarship awards.   www.arizonatuitionconnection.com     Would you consider making such a donation and recommending (son/daughter) as the recipient of that donation?  I would be happy to talk this through with you and get a representative from Arizona Tuition Connection on the phone to answer any questions.  
I appreciate your support in helping keep (son/daughter) at __________.   Your donations make a difference.
Forms
Arizona Public School Verification Form
This form is required by all students transferring from an Arizona public school and should be completed by an official at the school they are transferring from.
STO Award Verification Form
This form must be completed by the School Tuition Organization that issued the award or by the private school that received the scholarship on your child's behalf.
2021/2022 Scholarship Application
Donation Forms:
Download Donation Form (2020/2021 Tax Year)
Tips and Tricks for turbotax  (2020 Tax Year)
'Give this to Your Tax Adviser' Brochure (2020/2021 Tax Year)
Payroll Withholding Forms:
Employee seeking to make payroll withholding contributions should print all of the documents below:
Employee Participation Form (completed and returned to Arizona Tuition Connection)
Arizona Form A-4C (completed and turned in to employer)
Employer Forms ( provide to employer)
Instructions (overview for employee and employer)
Matching Gifts
Many employers sponsor matching gift programs and will match any charitable contributions made by their employees. To find out if your company has a matching gift policy, please enter your employer's name below.
If your company is eligible, contact your HR department to request the match. Use the information we provided on the receipt we sent you to complete the information. If you need a new copy of your receipt, we will gladly send you one. We will do the rest.
Most companies allow you to recommend a child for your donation. We will honor that recommendation. The impact is incredible as your donations may be doubled or possibly tripled! Some companies match gifts made by retirees and/or spouses.
Matching Gift data provided exclusively under these Terms of Use by HEP Development Services
Have Questions?  Call us!  We are available.